Why do I need an SSL certificate?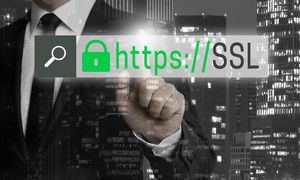 During 2018 there was a lot of information circulating around the internet about SSL certificates (Secure Sockets Layer). This was mainly because in July Google started to mark all sites without an SSL certificate as "not secure". Websites with an SSL certificate show up with a green padlock and "https://" before the address at the top of your browser.
Google is keen to improve internet security to make web browsing and the transfer of information safer for internet users and gradually, more sites are adding SSL certificates. All our new websites and any site refreshes we do will automatically have an SSL certificate, if requested.
How does an SSL certificate work?
SSL provides security between a web server and a browser by setting up an encrypted link between the two. This protects any data being transferred while you are connected to the website.
SSL certificates are definitely needed if you are taking payments from your customers through a shop for example. If you have forms on your website which capture sensitive information, then you should probably get an SSL certificate. For straight forward content websites without any forms then the decision is not so clear; you probably will not need one unless some of the following benefits are important to you.
SSL benefits
By encrypting any data moving between your computer and the web server, you will avoid the risk of cyber criminals stealing information.
Visitors to your website will view your green padlock and will have confidence that your website is secure.
Google has communicated the fact that they are boosting the page rank of websites with SSL encryption. No one is sure how much of a boost this provides but if your competitors have an SSL site then there is an argument to say that you should also have one.
How do I get one?
We have set up a new server to quickly and effectively handle the addition of SSL certificates to all our existing customers' websites.
We will have to transfer your website to the new server and test your website to ensure adding the SSL has not broken anything.
Because we are effectively changing your website's URL, this can mean internal and external links will stop working unless we add 301 redirects. Therefore, some work is necessary to transfer your site to the new server and set up and manage the SSL certificate. The price to do this will depend on how large and complicated your site is.
After reading the above, if you would like to add an SSL certificate to your website or would like to discuss if you would benefit from it, please contact one of our team.
Mark Langston