How to develop your next website for success
Before you ask your website designer to mock-up a design for your new website, you should be analysing how your current website is performing.
Improving your website should not just be about a new look but include improvements to increase leads and ultimately sales.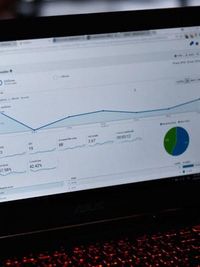 Discover the potential value of your website and what improvements are needed by asking the following questions:
Is your website generating the number of enquiries you would expect?
How many visitors do you get to your website and where are they coming from?
What devices are they using to view your website, phone, tablet or desktop?
How many potential clients are being lost before they reach a call to action and where are they abandoning your website?
How many monthly visits are your competitors getting and where are they obtaining their traffic?
Where is your website currently ranking on search engines and for which keywords?
What is the average value of a lead or transaction from your website?
Carrying out a website audit will answer all these questions and enable you to allocate a budget towards your new website that will provide a return on investment.
If you need help with this, we have the software tools to provide the statistics you will need to help improve your website.
Design process
Once we have established your budget and what you want to achieve, the next step is to develop a site map and navigation structure. This will involve discussions with you to analyse the website audit information to establish a page flow, listing your new pages and how they connect to help users find what they are looking for and act.
The website audit information is vital at this stage of the development. It will guide your new website structure and identify areas for improvement.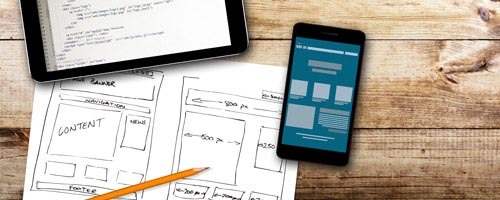 Content
This may not seem the right stage in the process to be thinking about content. However, to give your words maximum impact and help tell your story, content should guide the design, not the other way around. Using the information from the website audit you need to ask:
Is your existing content converting traffic?
Does it perform well for organic searches, SEO and keywords?
Does it represent your current brand values and latest information?
Is it well written with good grammar and spell-checked?
Can you write it yourself?
If you need help with this, we can write copy for your pages, news and blog articles. Writing for your audience first but keeping keywords and SEO in mind at the same time for maximum impact and high page ranking.
Design visuals
Once we have your final content, including images that are available to use, we can start work on the design mock-ups for your pages.
This is where the creativity starts; using information from the website audit and the content provided, your web designer can then develop page designs and layouts, starting with the home page, ready for your approval.
This stage can take time to finalise as your team will want to have an input in this process. Colours, images and styling are all subject to individual tastes so it is vital to get all your feedback at this stage of the process because any changes later in the website development can impact on schedules and cost.

Website development
Once design concepts are approved, development work can start. Depending on the size of your project, you may not see much in the way of progress for a while until a demo website is available for you to view.
If all the previous work has gone to plan and we have interpreted your requirements correctly, there should be no surprises at this stage. Your approved designs will be built and your approved content in place. There will always be some tweaking to be done. From experience, when content is viewed on a live page in context with images, some elements need to be moved around and these minor amends are usually included in the contingency costs up to a certain limit.
Mobile optimisation
All websites these days should be optimised for mobile devises. This is the last stage in the development process and cannot be carried out until your desktop website page designs and layouts are approved.
Testing and quality assurance
Testing is carried out in house, across several platforms and devices, the main ones being PC's using Internet Explorer, Mozilla Firefox, Google Chrome and Apple Macintosh, using Safari and Mozilla Firefox.
Before launch, our team will individually check their own areas of input such as project management, design, content and development work, to make sure everything is as it should be and meets your brief.
All that needs be done now is to repoint the domain name to the new site and within (usually) 24 hours your new site will be live.
Continuous improvement
Whether you have opted to manage your website yourself using our bespoke content management system "Extanium" or you are happy for us to make the changes for you, new content added to your website will keep your pages up to date for your customers and provide more information for search engines to rank your pages.
An ideal way to add new content is via a blog or news section. This will have been flagged up following the website audit. Regular monthly posting of informative and interesting articles is the most effective way to improve your search engine rankings.
Start your web redesign by calling us on
01584 890725
Mark Langston