Problems with WordPress websites
We covered this subject a few years ago in our original post "
Problems with WordPress websites
" and we have updated this post to reflect any changes that have taken place recently.
If you are looking to get a new website developed for your business and have been told that WordPress is the best solution, before you make up your mind, type "
problems with WordPress websites
" into a Google search bar and take a look at some of the posts on the page.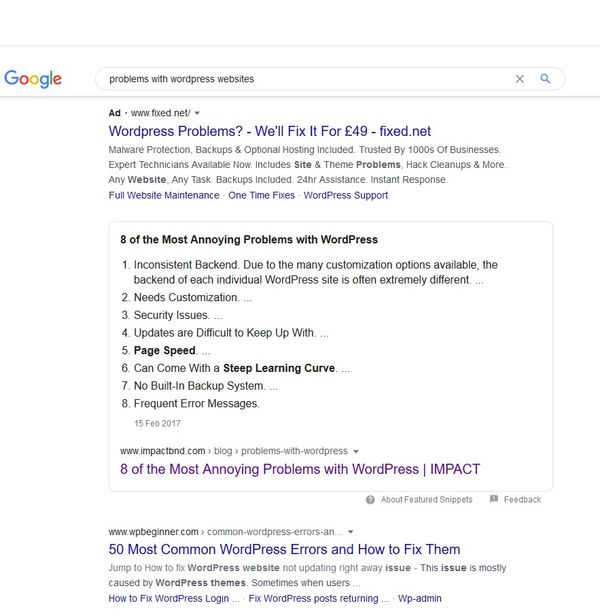 Most of these posts have been written by WordPress developers advising ways of solving some of the issues that are inherent in WordPress. We take a look at some of the main problems below and itemise the pros and cons of WordPress compared to a bespoke website build. This will provide you with all the knowledge you need to make an informed decision.
WordPress provides a good platform for building websites but like any other open source software it is not perfect and does have its problems:
Because it is a well-known platform security can be compromised, hackers and robots can easily find WordPress websites to attack

WordPress regularly release security updates to fix security holes

These security updates can break a website so the agency will have to continuously monitor your site and fix any issues that appear, billing you for the work

The website hosting server will need constant surveillance to monitor security updates

Plug-ins written by multiple third-party developers can break or conflict with other plug-ins installed

The quality of these plug-ins varies and there is limited support if you need to change them

Installing a large number of plug-ins can slow your site down and speed is now one of the most important factors for users and SEO

Some WordPress developers have limited coding/programming skills because, in theory, these skills are not needed

Lack of originality; your website will look like many other WordPress websites

License fees for themes and some plug-ins can add to the cost.
WordPress started out as a blogging platform. It was not meant for developing multiple page websites with extra functionality. This is why you need a plug-in for every additional feature.
This does not mean that WordPress websites are sub-standard. Providing your web agency has the skills and knowledge to maintain your website and keep it secure and has the experience to choose the best quality plug-ins that do not conflict with each other, a WordPress website can provide a cost-effective build option. However, you need to consider ongoing costs for maintenance.
Bespoke website design or WordPress?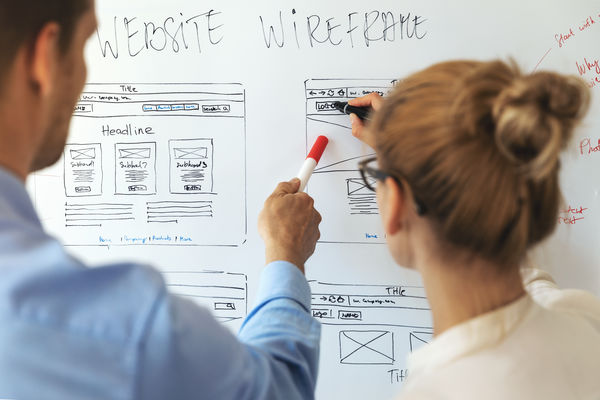 Your decision will depend on factors such as budget, what you want your website to achieve and how unique some of the features are.
Advantages of using a WordPress theme:
You get an off the shelf design that is mobile ready which can save time and money

Content is easily inserted into the website to match the design theme

Design themes can be sourced from a variety of providers; some are free but others are governed by a license fee

A wide variety of plug-ins are available to provide additional functionality, some are free, others you have to pay for

Open source platform that is well known.
Ideal if you want a website using a design theme and a standard set of plug-ins and you don't need unique development in the future.
If your developer has coding/programming skills they can customise your WordPress site. However, if you want customisation, it can sometimes be more cost-effective to opt for a bespoke website design.
Advantages of bespoke website design:
Unique design for your business

Features that are developed specifically for your business

Content Management System that is intuitive and easy to use

No need for security updates as the system is less likely to be attacked by hackers or robots

Secure and fast with no unnecessary Plug-ins slowing the site down

More control over the design and layout of your pages

Additional bespoke development can be added in the future, if required

No license fees.
Ultimately, like most things, you get what you pay for and it all boils down to the skill and experience of the agency you select.
Why Crystal Thought
At Crystal Thought, we build both WordPress and bespoke websites and have the coding/programming skills to develop a website that will meet your individual requirements. Whichever platform you choose we will help you to decide what will work best for your business.