Improve your SEO with smart software
Improving the ranking position of your website on search engines is one of the most important tasks you can undertake if you want to drive more traffic to your website.
"To appear on page one of Google for searches related to your products or services, you need to understand how Google's page ranking works and how to optimise your web pages to be found in searches."
At the last check, Google had the largest share of the search engine market at 70.37% with the next search engine (Bing) at just 13.09% (source: https://netmarketshare.com).

There are a variety of providers offering SEO analysis platforms. Marketing agencies rely on these tools to optimise clients' web pages and monitor progress.

All of these platforms work on a subscription fee to access the software and allow multiple websites to be managed. This makes it expensive if you are only managing your own website.

Some of the tools available include:
1. Audit report
This is the first stage that generates a website audit report and provides information about your web pages.

The tool will analyse your pages and identify any broken links, duplicate content, meta descriptions missing and other actionable items that will need to be fixed to help improve your page rankings.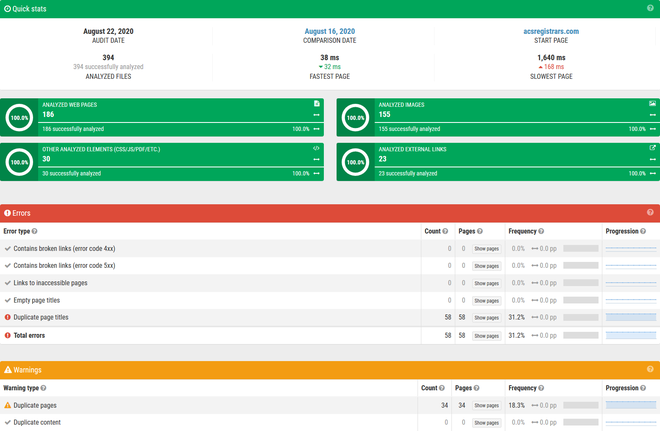 2. Keyword research and report
The keyword research tool will generate a report showing the current page ranking on Google for your keywords and how many searches have been made on those keywords in the past month.

The tool can also find new and more effective keywords that can be used on your web pages.

You may think you know the keywords your customers are using to find your services; however, you know your products and services inside out and may not be considering keywords or longer search terms (long tail keywords) your customers might use.

The research will identify keywords that are most profitable and identify new keywords you may not have thought of.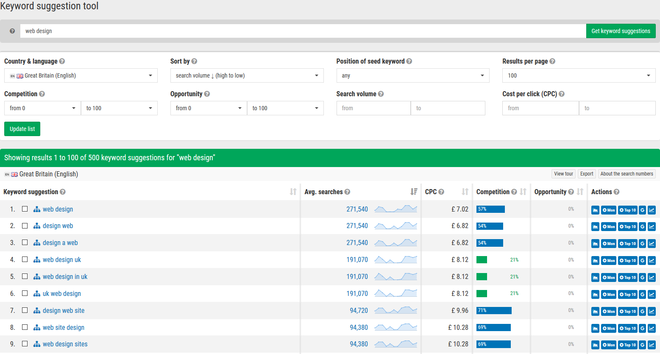 3. Keyword spy tool
Find out which keywords your main competitors are using on their web pages and whether they are running Google Ads. This will provide a useful insight into your rival's keyword strategy.
4. Web page optimisation
Improve your web page rankings by including the most profitable keywords on your web pages. Obtaining a page one ranking for one of your web page keywords can dramatically increase traffic to your website and increase sales.

The tool provides a step by step guide on what to do to improve every page of your website.
5. Quality link Building
Obtaining inbound links (backlinks) to your site from other websites and social media will improve Google rankings.
Only quality, relevant links will be beneficial and the software platform has a variety of tools to provide suggestions on where to find the best inbound and outbound links.
6. Result checking and reports
To measure the improvements of the work that has been carried out during the previous months, the platform generates reports for keyword rankings which can be monitored monthly to review progress.
This is like a league table for keywords which monitors the effect of the work being done on your web pages month by month.
Getting started
Once we have carried out an audit report on your website, the next step is to research the most profitable and effective keywords that will drive traffic to your web pages.

Seed words can be entered into the keyword tool to help find other relevant keywords and the number of searches being carried out per month.

Once your most profitable keywords have been established for each topic, product or service, we can then insert these into your existing web pages and use them to write new content.

By using the web page optimisation tool, we can monitor the changes made to ensure we are not over stuffing the keywords onto the page and we are maintaining the optimum keyword to content ratio.

The tool gives a value score that monitors your keywords and other improvements being made to the page.
Adding new content
Adding valuable, relevant content consistently (https://contentmarketinginstitute.com/what-is-content-marketing) to your website still remains the single most important activity that will improve your page rankings on Google and engage your customers.

Adding new pages to your website or writing articles for a blog, case studies or white papers are all ways of adding new content to your website.

New content is useful to search engines and your customers. Because you are writing about your business and related subjects, you will naturally include keywords that customers will be using to find your services and help search engines rank your web pages.

Keyword research before you start writing will make sure you include your most profitable keywords in the content of your article to be found and ranked by Google.

Keyword copywriting is all about writing great copy and learning how to include your most relevant keywords in the article to maximise the SEO value.
Continuous improvement and monitoring
By using the SEO tools in the software, continuous improvements can be made to optimise your pages and written content. Analysing and measuring results all help to guide future improvements that will be needed to continually move your website up the page rankings.
Sharing your content
Of course, once you have all of this quality content, you can develop a content marketing strategy and look at other areas where you can share your content and connect with your customers.